What comes to mind when you hear the word "half-basement"? All too often, it's the disadvantages that come to mind first! In this article, we'll change that by naming the many advantages of renting a half-basement.
We've also taken the opportunity to provide you with some tips and tricks for decorating your apartment.
If you were already convinced about the idea of renting a half-basement, you will see your arguments validated and you will even discover new ones!
The financial advantages of renting a half-basement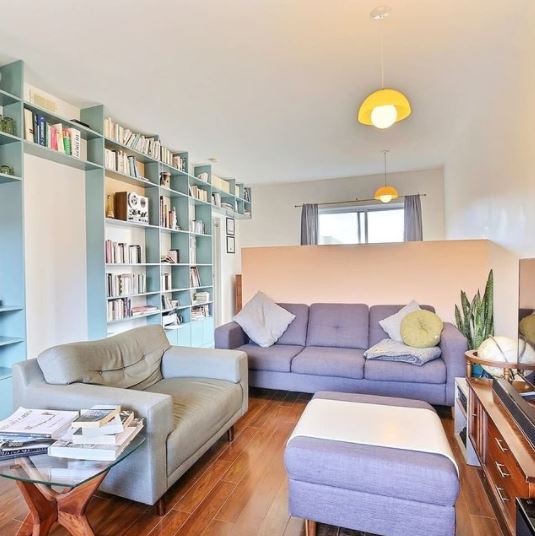 With rent prices skyrocketing, the financial argument is probably one of the most compelling. Due to many of the unique features of half basements and preconceived notions that are often proven wrong, monthly prices can be 10% to 15% cheaper.
The amount you save will allow you put aside a lot of money at the end of the year and invest it in the projects you want!
Another advantage for your wallet: the electricity bill is less expensive and allows you to save on heating. By being surrounded by an earthen envelope and a floor above, the half-basement retains and maintains heat more efficiently.
The unsuspected practicalities of half-basements
An ideal place for children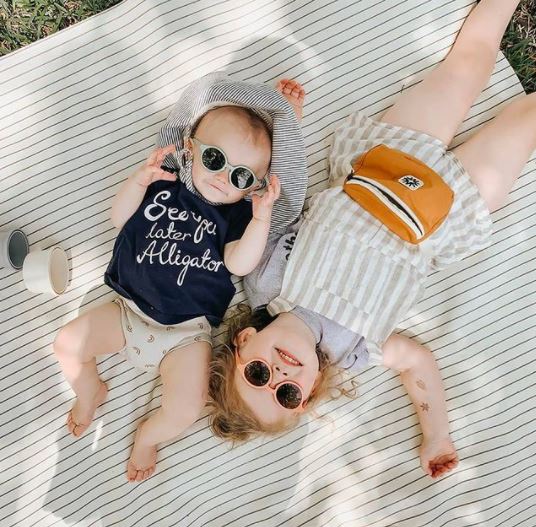 If you have children or family members who visit you often with their kids, you'll appreciate the acoustic freedom of a half basement! With no neighbors underfoot, you'll be able to tolerate them as they drop their toys!
Even without any children around, the peace of mind of your half-basement will allow you to do the physical activities you want, at home, without disturbing anyone, and walk on your heels if you want!
Your own outdoor space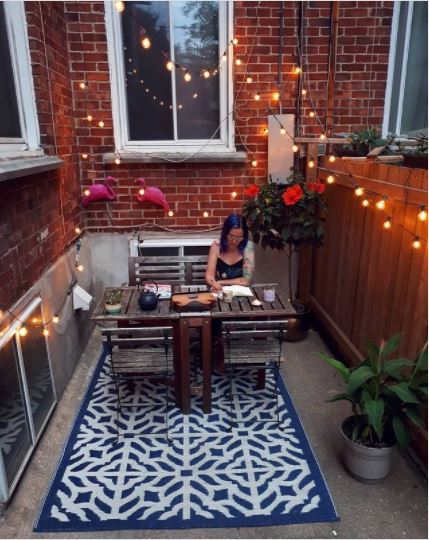 The backyard is often more easily accessible when you live in a half-basement, if you have a door that opens onto it of course.
In addition, your outdoor space usually offers you more shade and an enviable sense of privacy that the units above do not have!
At night: no matter when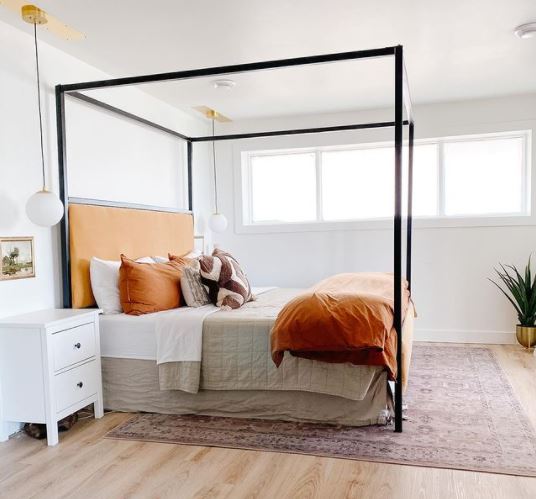 Half-basements are also perfect for people who need to rest during sunny hours. If you work on evenings or nights, you'll like having less window area to cover so you can sleep. Nothing will stop you from opening the curtains and letting in all the light you want afterwards!
Coolness more than anything!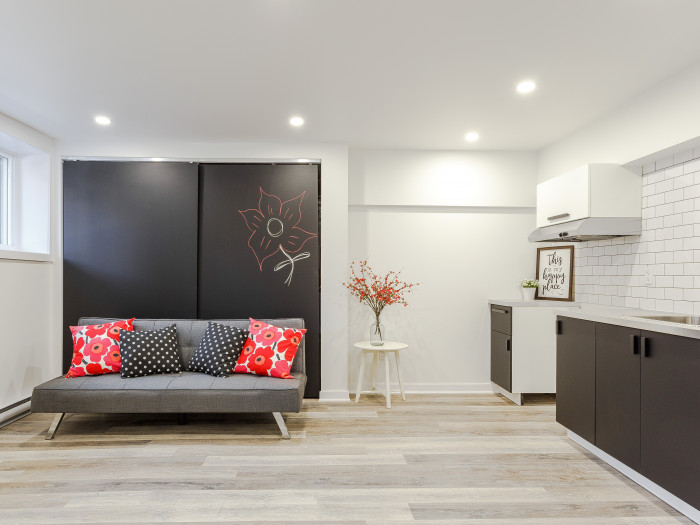 It is well known that it is cooler underground! It will be the same in your half-basement apartment. The hot days will seem lighter, and you may be able to leave your air conditioner aside too. It's also a good way to save on your electricity bill!
Make your Apartment Nice and Bright!
The choice of materials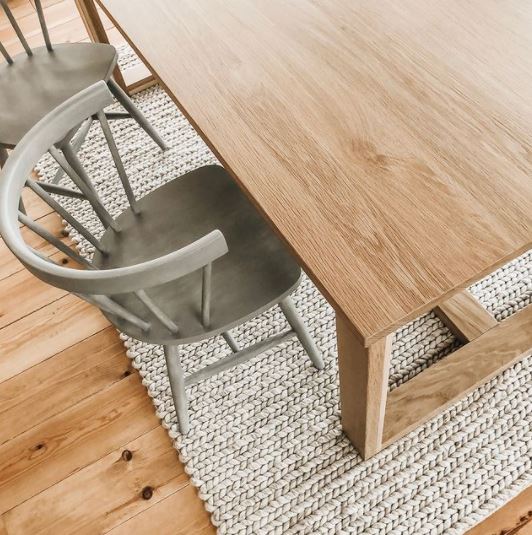 Despite all the advantages mentioned above, there are still some small aspects of half-basements that can be improved. As in any interior design, tips and advice specific to the characteristics of each apartment are required!
Buying furniture with light-colored materials will help you in your quest for brightness! Without neglecting the beautiful large tables and massive armchairs, we suggest that you opt for light and bright colors that will brighten up your rooms! For example, oak, cherry, and maple are woods that will give a glow and catch the incoming light.
The perfect colors for your walls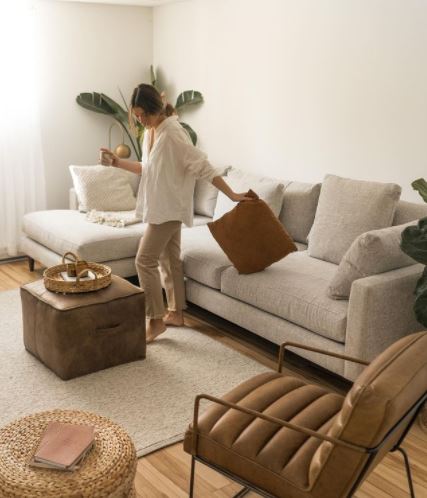 If you have permission to paint your walls, we recommend choosing light colors to create luminosity. A trip to the hardware store will give you inspiration for your furniture, walls, and accessories!
If you must leave your walls white, that's fine too! This shade is perfect for brightening up rooms and gives you the freedom of choosing the accessories in the color you want!
The types of electric lighting to prioritize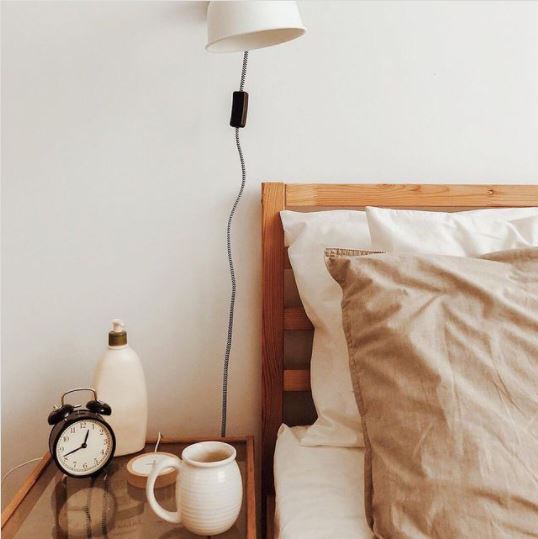 When we talk about light, we also need to include unnatural light. In addition to doors and windows, you'll also need to get light from electrical sources.
Halogen bulbs create a very warm atmosphere and last a very long time! If your apartment has ceiling track lights, take advantage of the opportunity to give your decor a friendly atmosphere.
Otherwise, floor lamps for your living room and bedroom are perfect for providing good light while making sure your rooms look stylish. Last but not least, we recommend you opt for warm white bulbs which, as its name suggests, will warm up your space.
The advantages of renting a half-basement are multiple as you can see! All you have to do is visit the one you like best!